Hanukkah Family Celebration & Lunch
Sunday, December 10, 2023
•
27 Kislev 5784
10:30 AM - 12:00 PM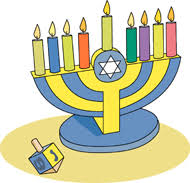 Hanukkah Family
Celebration & Lunch
Open to Everyone! Bring Family and Friends!
Sunday, December 10,10:30am–12:00pm
Our Sunday School at Deerfield High School
Bring your family's menorah for our Menorah Show & Tell
Rabbi Adam Chalom leads us in part of the Hanukkah service, and we'll sing songs with our guitarist
Student activities include the popular candle-making and also making your own menorah!
Adults and children will get to know each other with our Experience Bingo game!
Enjoy a Hanukkah lunch together, including: challah, chicken, macaroni and cheese, latkes with applesauce and sour cream, salad, fruit, and chocolate gelt. We'll also have samosas and churros for extra dishes with oil following the Hanukkah tradition!
Hanukkah service booklets will be available for home use
The Kol Hadash Values in Action Committee is collecting gifts for children in need by participating in the Community Alternatives Unlimited holiday giveaway program.
Share Print Save To My Calendar
Thu, December 7 2023 24 Kislev 5784