Holidays
Instead of doing things because "that's the way they've always been done," we explore the meanings behind holiday traditions and adapt them for today.
For us, Jewish identity and culture is about people, not prayer. We replace worship with a belief in human knowledge, power and responsibility.

Our innovative symbols and liturgy celebrate our Jewish connections through inspirational poetry, prose and music that touch our hearts and stimulate our minds.

We read, say and sing what we truly believe.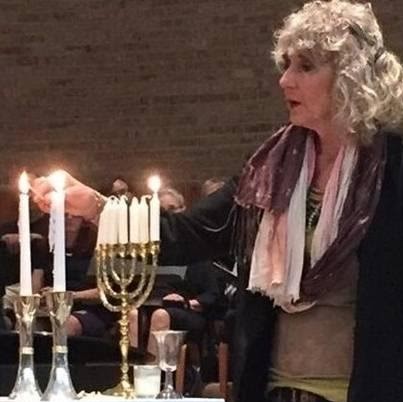 Our Shabbat services explore relevant universal values such hope, the passage of time, and community, which encourage meaningful reflection and meditation. Jewish music, language, symbols and ceremony give us roots from which we appreciate the wide range of the human experience.
We genuinely look forward to our Rosh Hashana and Yom Kippur services! Music, poetry, and thought-provoking messages and readings from the Torah and Jewish literature are woven together into an uplifting moment of new beginning.
Our families bring in their own menorahs to "show and tell" the diversity of today's Jewish experience; just one example of our creative approach to Jewish traditions.
Why is our seder different from all others? We respect our founding narratives as powerful literary myths (not history) and relate them to current issues and concerns.
Other Holidays
Our Sukkot, Purim, and Tu B'Shevat celebrations keep what is meaningful from our Jewish inheritance and express our Jewish connections in ways that reflect our values. And we have lots of fun with them!
For all major Jewish holidays, we have fun events for children that give them an understanding of Jewish culture, literature, history, values and ethics, and help them explore what "Being Jewish" and "Doing Jewish" mean to them.
Tue, June 6 2023
17 Sivan 5783
Friday Night
Upcoming Programs & Events
---
Fast of Tammuz
View Calendar
Zmanim
Alot Hashachar
3:24am
Earliest Tallit
4:12am
Netz (Sunrise)
5:16am
Latest Shema
9:03am
Zman Tefillah
10:19am
Chatzot (Midday)
12:50pm
Mincha Gedola
1:28pm
Mincha Ketana
5:16pm
Plag HaMincha
6:50pm
Shkiah (Sunset)
8:25pm
Tzeit Hakochavim
9:17pm
More >>
Tue, June 6 2023 17 Sivan 5783