Holidays
Our cultural holiday celebrations explore the meanings behind traditions and adapt them for today.
We replace worship with a belief in human knowledge, power and responsibility.
We read, say and sing what we truly believe.
The Jewish New Year begins with the High Holidays of Rosh Hashana and Yom Kippur. Our secular services modernize our traditions to be meaningful to today's diverse Jewish families. We approach these holidays as opportunities for self-reflection, repairing relationships, and community connection. Learn more about our Adult Services and Family Services for both holidays.
Sukkot is the ancient Jewish Fall harvest festival, celebrating our connections to the natural world. We celebrate Sukkot with a vibrant family-focused celebration — building and decorating the sukkah [hut] with arts and crafts, pizza, and community! We reflect upon the interdependent web of life – the farmers who grow food as well as the sun, rain and soil that make it possible. Learn more about our Sukkot celebrations.
The survival of the Jewish people is no miracle; it is the result of human actions and human courage. We explore the real history of the Maccabees, the menorah and the story of "the miracle of the oil." The Festival of Lights represents both the Maccabees' fight for Jewish independence and a universal celebration of light and warmth in the face of winter cold. We see the true miracle in human power as the ability to give and find joy in being together. Learn more about our Hanukkah celebrations.
Tu B'shevat, the "New Year for Trees," is an opportunity to focus on our environment and our Humanistic belief that people have the responsibility to solve our shared problems. Both our adult and youth members come away from our celebration with concrete ideas of how they can make a difference. While the holiday arrives a bit early for trees to bud in Chicagoland, our Tu B'Shevat fruit seder celebration is a sweet way to anticipate the coming of spring. Learn more about our TuB'Shevat celebrations.
Purim retells the story of Esther and Mordecai saving the Jewish people as an entree to a joyous celebration. We tell the story of Purim with feminist and Humanist values. We celebrate the human action and actors that save the Jewish people, both in this story and throughout Jewish history. Creative crafts and activities make Purim at Kol Hadash a fun celebration. Learn more about our Purim celebrations.
Passover began as a spring festival for farmers and shepherds, evolved into a celebration of freedom and the Exodus story, and today is a gathering for special food and family time. Although we do not recognize the story of the Exodus as historically accurate, our retelling reminds us how Jewish people, even in recent times, have survived oppression through human fortitude and resilience. Our Humanistic blessings over the wine, matzah, and items on the seder plate creatively connect us to Jewish traditions. Learn more about our Humanistic Passover seders.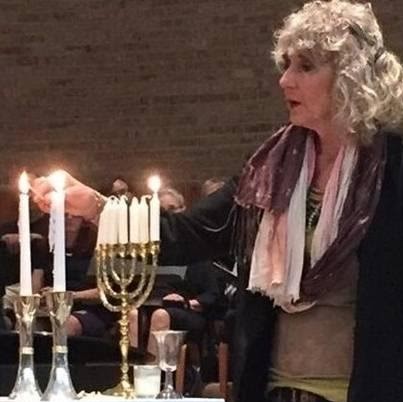 Shabbat is an opportunity to rest, reflect, and reconnect with ourselves and each other. Our Friday evening secular Shabbat services provide insight and inspiration through Humanistic poetry, prose and music. We view Shabbat as a gift to ourselves: a human invention that improves time by adding silence to noise, stillness to motion. Learn more about our Shabbat observances.
For major Jewish holidays, our fun celebrations for children give them an understanding of Jewish culture, literature, history, values and ethics, and help them explore what "Being Jewish" and "Doing Jewish" mean to them. Learn more about our family holiday celebrations.
Tue, December 5 2023
22 Kislev 5784
Today's Calendar
---
Friday Night
Upcoming Programs & Events
---
Erev Hanukkah
View Calendar
Zmanim
Alot Hashachar
5:35am
Earliest Tallit
6:09am
Netz (Sunrise)
7:05am
Latest Shema
9:23am
Zman Tefillah
10:10am
Chatzot (Midday)
11:42am
Mincha Gedola
12:05pm
Mincha Ketana
2:24pm
Plag HaMincha
3:22pm
Shkiah (Sunset)
4:20pm
Tzeit Hakochavim
5:06pm
More >>
Tue, December 5 2023 22 Kislev 5784