School Events
"The teachers helped our children see how the teachings were directly related to their lives. The curriculum varied enough to keep the kids' attention with discussions, movies, games, and activities."
— Alisa K., Deerfield
"I loved that in my experience in Kol Hadash's Sunday School was way more about the culture and about the people and the community. I graduated from Sunday school five years ago and I'm still involved. I still talk about Humanistic Judaism with my friends at college."
— Chip K., Highland Park
Jewish culture literacy is not just a matter of names, dates, places and stories. It is also music and food and art and action! Through a variety of special events, our students create Jewish memories through exciting Jewish experiences.
Our whole school—students, teachers, and families—come together to celebrate major Jewish holidays as well as to enjoy special programs on Jewish culture.
Sunday School Welcome Back Picnic
Our annual school kickoff is our family picnic at a neighborhood park. This event is open to all new and prospective families — and of course, all of our returning families! Rabbi Chalom and Education Director Dawn Friedman will be there to greet families and answer questions about our education programs; many Sunday School teachers will also be on hand. For more information, contact our administrator, Jeremy Owens, at info@KolHadash.com, or 847/383-5184.
Taste of Kol Hadash
It's no wonder that our most popular Sunday School program features THE most popular Jewish activity: eating! Kol Hadash members cook their most cherished family recipes—from any generation and from any culture. They serve their dish (in bite-size portions) to our Sunday School students and guests and explain the family history of the recipes. It's hard to beat learning about history while tasting delicious foods! Check out our Taste of Kol Hadash Cookbook (2019), Taste of Kol Hadash Cookbook (2020).
Community Service Day
Great experiences can also do good! On our "Special Persons' Day," which often coincides with our "Day of Action," we invite grandparents, aunts and uncles, and other special people in our children's lives to visit our educational programs. Over the past few years, we have created fleece blankets for Chai Lifeline.
Mezzuzah Making
In Humanistic Judaism, we are the heirs to Jewish culture, which means we can remake our inheritance with our own values. If we choose to mark our doorpost with a Jewish symbol, what words would we choose to put inside it? How would we decorate it? These questions and many more are explored in our Make Your Own Mezuzah workshop. Ceramic mezuzah to take home included!
Israel Lunch
Almost half of the world's Jews live in the land of Israel, and modern Israel was the creation of secular Jews. We celebrate our connection to the land and its people by exploring its food, music, geography and history in an interactive all-school experience!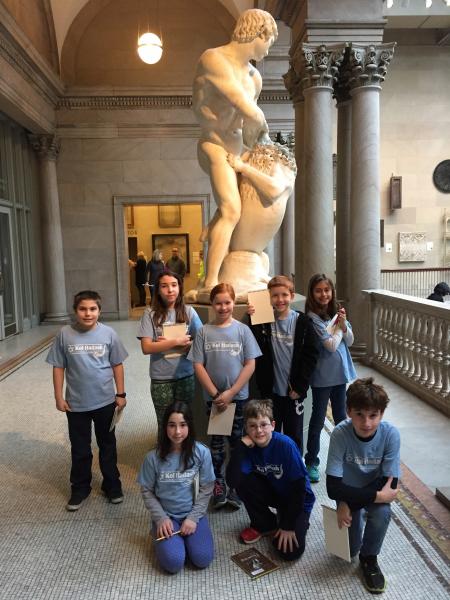 Field Trip to Art Institute
There are many ways to learn about the human experience and Jewish identity. Our field trips to the Art Institute of Chicago have provided an all-ages exploration of beauty, form, and nonverbal expressions of personal identity. It also gives our school community (children AND parents) a great social and experiential opportunity to take advantage of one of Chicagoland's great resources.
Bagel Brunch
What would cultural Jewish identity be without Jewish food? If our students completed their Jewish education without knowing what a bagel with lox and cream cheese tastes like, we would be entirely deficient! (In our tradition of always being mindful of children's food allergies, we provide a gluten-free option.)

Music
In keeping with our spirit of community, the entire school gathers together for the last 20 minutes for a sing-along with parents and teachers.
Sunday School Quick Links
Sunday School Calendar Youth Education Handbook
Thu, April 15 2021 3 Iyyar 5781